Spend an evening with us at a real Smoky Mountain farm…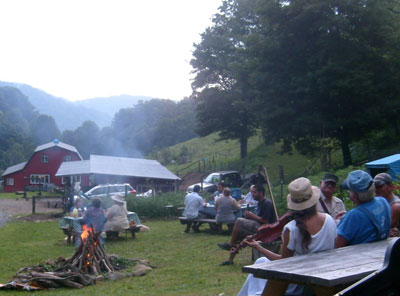 Take a trip back in time-just a few miles outside of Asheville but a whole world away.
Drive through historic Big Sandy Mush, one of the most beautiful valleys you've ever seen, then wind your way up a little country road to our mountainside farm. Stroll the farm grounds and meet our friendly animals-Nubian goats and their babies, pigs and sheep and horses, free range chickens, ducks, and turkeys. Our Great Pyrenees dogs, the Gentle Giants, will keep you company. Drink in the gorgeous mountain views, enjoy our fresh mountain breezes, listen to the music of our creek-and wade in it if you like!
Then we'll gather on the lawn to light the bonfire and strike up the mountain music. Tap your toes while you feast on authentic barbecue and fresh farm foods. Then when you think you can't eat another bite, toast a marshmallow at the fire and thrill to some tall mountain tales.
And when it's time to head home, the fireflies will be coming out to light your way.
---
YOUR BONFIRE DINNER
EVENING INCLUDES:
A Full Barbecue Dinner with Side Dishes, Beverages, Dessert, and Coffee
A Close Up Visit With the Animals At a Real Mountain Farm
Authentic Mountain Music and Storytelling
Bonfire and Marshmallow Toasting
A Keepsake Mug For Your Dinner Beverages, Yours To Take Home
Hundreds of Memories That You Will Never Forget!
View Menu Here
---
FRIDAY NIGHTS: 6 PM to 9 PM, SUMMER THROUGH FALL
RAIN DATE: SATURDAY, 6 PM to 9 PM
Seating is Limited. ADVANCE RESERVATIONS ARE REQUIRED
Call 828-683-5758 for Information and Reservations
ADULTS: $45.00 per Person
CHILDREN 12 & UNDER: Half Price
CHILDREN 3 & UNDER: Free
Side Dishes, Beverages, Desserts, and Marshmallows: All You Can Eat
Additional Entrees Are Available A La Carte
A Vegetarian Entree is Available on Request
---
ABOUT OUR BARBECUE
We make our own marinade. We make our own rub. We smoke with our own hickory, cut right here on our mountain. Four generations of our family have savored our knockout barbecue sauce. It's tangy with tomato and vinegar, sweet with brown sugar, a bit spicy with fresh garlic and the right touch of red pepper. Folks tell us we make the best barbecue they ever tasted. We think you'll agree.