A ONCE-IN-A-LIFETIME EXPERIENCE!
Full Day Outing with Breakfast, Lunch, and Dinner
Go back in time and ride with a genuine wagon train! For generations, local mountain folks have gathered in Big Sandy Mush for the Labor Day Wagon Train. This is not a tourist event-in fact, it's not publicized at all. It's just neighbors getting together to drive their wagons and enjoy good company. Randall Glen joins in on the train, and we invite a select few guests to ride in our wagon or as an outrider on horseback for an adventure you will never forget. On Labor Day Saturday we'll gather for a mountain biscuit breakfast, then join the wagon train right here at Randall Glen on the original pioneer wagon road. We'll ride through the woods and then wind our way up the mountain to Haywood Gap, where we can look down on Big Sandy Mush thousands of feet below.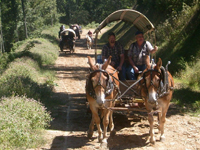 At Haywood Gap the wagon train stops to rest the teams. After a hearty country lunch at the Gap we'll head down the other side of the mountain, passing through rich farmland on the way to the encampment at Crabtree. Reaching the encampment at mid-afternoon, we'll unhitch the team and unsaddle the horses, then get together with our fellow wagoneers. You'll have a chance to swap stories with other drivers and get a closeup look at their rigs and teams. We'll get a fire going and cook up a fine outdoor dinner. If you like, your friends and family can meet you at the encampment and join us for our campfire dinner. We bet you'll hear some tall tales, see some fancy riding, and hear some good mountain music. As the day winds to an end, we'll load up the horses and catch a modern-type ride across Beaverdam Gap and back to Randall Glen.
Friends and family are welcome to participate in the Mountain Biscuit Breakfast and Campfire Dinner by advance reservation.
TYPICAL MENUS
Mountain Biscuit Breakfast

Hot Homemade Biscuits
Farm Style Butter
Local Honey & Preserves
Ham
Country Sausage
Thick Smithfield Bacon
Scalloped Apples
Coffee
Local Cider
---
Country Lunch

Fried Chicken
Cole Slaw
Local Tomatoes
Crusty Roll
Aged White Cheddar
Chocolate Pound Cake
Lemonade
Soft Drinks
---
Campfire Dinner
Grilled Filet Mignon & Pork Loin
Loaded Baked Potato Salad
Classic Three Bean Salad
Toast Rounds
Homemade Pimiento Cheese
Bread & Butter Pickles
Apple Fritters
Fresh Fruit
Truffle Fudge
Iced Tea
Lemonade
Soft Drinks
Frappuccino
---
The Wagon Train Adventure is available by advance reservation. The all-day outing is $500 per person, including breakfast, lunch, and dinner. Horseback participation is limited to 5 persons who are upper intermediate to experienced riders. Wagon participation is limited to a combined passenger load of 700 pounds. Friends and family may participate in the Mountain Biscuit Breakfast for $15 per person, and the Campfire Dinner for $45 per person. To make a reservation, email us atinfo@randallglen.com or call 828-683-5758.