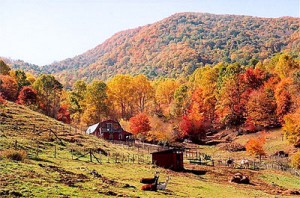 My heart is in the Highlands…
When Scottish pioneers reached the Great Smoky Mountains, they felt like they had come home. The wooded mountains wreathed in mist, the rolling meadows, the rocky streams rushing through the glens-all reminded them of their own Highlands of Scotland. They settled here and farmed the land in the way of their grandfathers, and the Smokies became known as The Southern Highlands.
Come to the Southern Highlands.
Come home to Randall Glen.
Our mountainside and the rolling pastures of our farm occupy a peaceful high glen at the end of a beautiful valley. Come stay with us in a Smoky Mountain cabin. Ride and hike our woods. Share our farm bounty. Pick an armful of wildflowers, glory in a sunset, dream by a crackling fire. When you come to Randall Glen, Great Smoky Mountain Cabin Rentals, you'll never want to leave. Once you leave you'll always want to come back.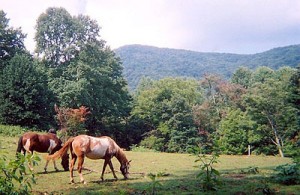 Randall Glen is located just outside Asheville in the historic farming community of Big Sandy Mush. Completely isolated by mountains, this picture postcard valley is still farmed by original settler families and has no commercial development at all. We're on Newfound Mountain at the very end of the valley, and have over a hundred acres of mountainside and rolling pasture filled with wildflowers, creeks, and forest. We're surrounded by thousands of acres of conservancy land, and wildlife flourishes here. Our home farm, Randall Cove Farm, is at an elevation of 3100 feet and our Randall Glen mountaintop is at 3600 feet, giving us wonderfully cool summer air and great snow in the winter. We're so high, in fact, that sometimes we're actually surrounded by clouds.
For our guests we offer five authentic log cabins on the wooded mountainside, each with magnificent mountain views and well separated from the others. Three cabins comfortably sleep 2 to 6 persons and two accommodate 4 to 8.
Some of the luxuries include featherbeds, heated towels, leather sofas, and fine linens. Kids are especially welcome, and we provide accessible and low-allergen accommodations as well. We can arrange to stock your kitchen on arrival, help book activities like rafting, Biltmore visits, and hot air ballooning, or even arrange for massage and spa services at your cabin. We're open year round, with winter ski vacations and special Christmas celebrations as well as evening entertainment in warm weather.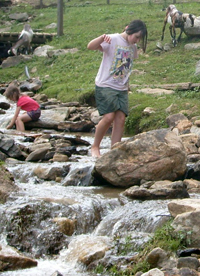 Activities at Randall Glen include:
horseback riding
extensive hiking and mountain biking trails
dig-your-own gem mining
an interactive farm
a big games lawn with outdoor games and winter sledding
general store and guest center with wifi, espresso bar, basic groceries, snacks, and soft drinks
lending library of videos, books, and games
and living history at our historic settler's log cabin
At Randall Glen, a kid can be a kid-and so can you!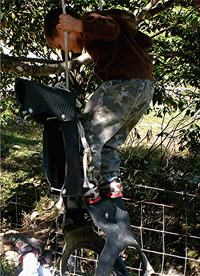 There are so many things to do at Randall Glen, and one of the best is just plain having fun. Here, your family is a world away from rigid schedules and stranger dangers. With no worry about city threats, your kids can go exploring and have adventures all on their own. There's nothing like being out on your own, hunting for arrowheads, discovering a nest of baby birds, or setting up a secret fort. And for the very best of times, join in on that fun we all used to have! Step back to a time when every morning opened with glorious, endless leisure to do just what you want. Throw away the calendar. Take a walk with your kids and laugh with them as they run through a meadow. Lay back and find shapes in the clouds. Get your feet wet in a creek or follow a butterfly just to see where it goes. And, under a star dazzled sky, gather around a fire to share the sticky joys of a perfect marshmallow. Your kids will never forget these days together, and neither will you.
Our Home Farm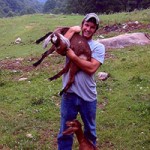 Our home farm provides fresh vegetables, fruits, and eggs. Guests staying in our Great Smoky Mountain Cabin Rentals are welcome to participate in everyday farm life and to help feed our Highland sheep, goats, chickens, ducks, guinea fowl, Jersey cows, and horses. According to season, you might experience sheep shearing, horseshoeing, or bottle feeding lambs and baby goats. There are simple pleasures, too, like blackberrying, creek wading, picking armloads of wildflowers, chasing fireflies, and gazing at more stars than you've ever seen.
We want you to feel at home here, and to feel as if you're part of these mountains.
Come to the Southern Highlands. Come home to Randall Glen.
PLEASE NOTE: We wish we could welcome pets, but this is a working farm. It is the job of our 9 Great Pyrenees guardian dogs to protect our livestock. They sometimes perceive visitor dogs as a threat, and this creates a very stressful situation for all parties. For this reason, pets of any kind are strictly prohibited in all of our cabins. We hope you understand.