My heart is in the Highlands...
When Scottish pioneers reached the Great Smoky Mountains, they felt like they had come home. The wooded mountains wreathed in mist, the rolling meadows, the rocky streams rushing through the glens - all reminded them of their own Highlands of Scotland. They settled here and farmed the land in the way of their grandfathers, and the Smokies became known as the Southern Highlands.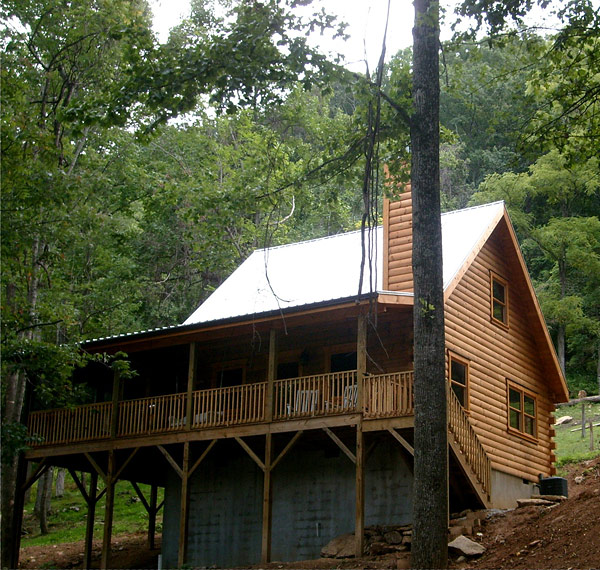 Featured Cabin Rental
Fox Bark
Set in trees festooned with ancient wild grape vines, Fox Bark...
Fresh Air
Randall Glen is a hundred-acre farm with its own mountainside, creeks, and wildflower meadows. We've carefully built a few luxury log cabins on our mountain for perfect North Carolina vacation rentals. Secluded location, private hot tubs, and wood fires make a wonderful romantic getaway. We're also kid friendly and we offer a wealth of activities including horseback riding, gem mining, and trout fishing.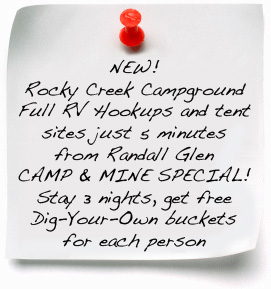 Beautiful Views!
Step out of your door to thousands of acres of unspoiled wilderness for miles of hiking, mountain biking, and the riding trails that make us unique among Asheville stables. Make Randall Glen your base for whitewater rafting and skiing vacations. Enjoy our friendly farm animals and our fresh harvests. Join us for traditional farm activities like sheep shearing or horse shoeing. Listen, spellbound, to tall mountain tales around a bonfire. At Randall Glen you can experience the simple Smoky Mountain lifestyle that Southern Highlanders have known for hundreds of years. You can celebrate an unforgettable North Carolina mountain vacation. You can also just plain have fun.
Randall Glen Farm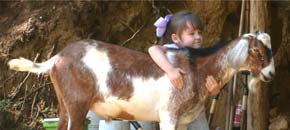 Our home farm is the heart of Randall Glen. Our cove has been farmed for over two hundred years, and we continue that...
Tours & Adventures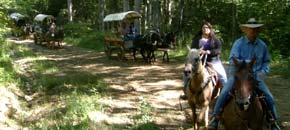 The Smoky Mountains have so many wonderful opportunities for adventure. Here at Randall Glen, we offer adventures...
Randall Glen Gem Mine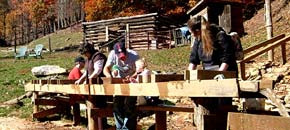 Join us at our gem mine in the wildflower meadow. At the mine shaft, dig a bucket of dirt rich in gems. Take it to the flume...
Entertainment & Amenities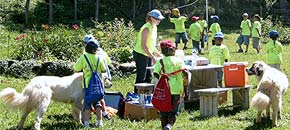 We love our life here at Randall Glen, and we'd like to share it with you. Here you can experience the simple...
Stables & Trail Rides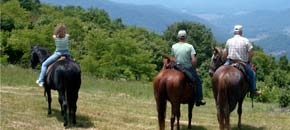 Mounted on a fine horse matched to your skill, explore the incomparable beauty of the Great Smoky Mountains.
RV & Tent Camping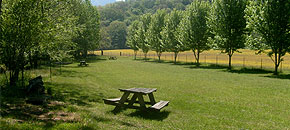 Nestled by a creek at the foot of a mountain, Rocky Creek offers peaceful country camping. With its tree-shaded ...