We all wear a lot of hats here at Randall Glen, and we all enjoy working together. You might see us pitching in to dig potatoes, feed the horses, stack bales of hay, or get the chickens in for the night. We'd like you to feel like you're a vital part of Randall Glen too. Here are some of the people who make it feel like home:
Linda Goodin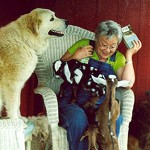 Linda has lifelong experience with horses and livestock as well as management and hospitality. Linda is in charge of the garden, the sheep, goats, and poultry, and also manages the Barnhouse. You might get to give her a hand with shelling beans, putting up pickles, or carding wool from our Shetland sheep.

Mary Adore Coloney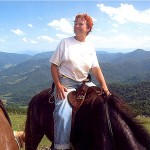 Mary Adore is a homegrown naturalist and archeologist, and has ridden horses since she could reach the stirrup. She oversees Randall Glen entertainment and activities, and manages the stable as well. She may be taking you on a hike and sharing lore about wildflowers, animals, and local history, and she might be leading you on a trail ride, too.

Caroline Hummer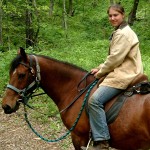 Our trail guide Caroline will show you some of the most beautiful trails you've ever seen and make sure you have a wonderful ride. At the barn she's glad to teach kids and grownups about horse care and grooming, and let you lend a hand. Caroline is also a knowledgeable organic farmer and she oversees our farm Intern program.

Joe Etoll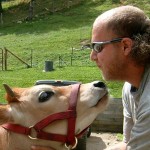 Joe's one of our trail guides and not only will he take you on a great trail ride, but we bet he'll have you laughing too. In addition to being a horseman, Joe's an experienced farmer and you're likely to see him plowing the garden, doctoring a goat, or milking the cow.

Marc Robertson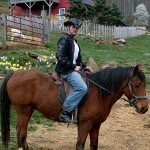 Marc is in charge of the Randall Glen Gem Mine and he'll make sure you find treasure. He and his assistants will teach you everything you need to know about mining and how to identify your gems. Marc's a native Southern Highlander, and if you're lucky you might find him leading you on a mountain hiking adventure and telling you some great tales about these parts.

Galen Minardi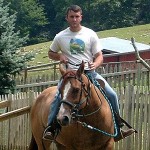 Mary Adore's son Galen helps us out when he's on leave from the Army. He lends a hand with everything from running the stable to bottle feeding animal babies or harvesting in the garden. He's spent time in the woods of the Great Smokies all his life and he can lead you on some great adventures.