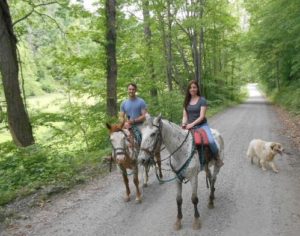 Mount up at our stable for a fun adventure!  We'll tailor your horse and your ride to your experience level, riding through gentle farmland, over scenic hills, or on a challenging mountainside.   You'll see log cabins, rushing creeks, wildflowers, and beautiful mountain views.
If some members of your party don't ride, no problem!  We'll take them on a hayride in our farm truck and meet you at our creek-side outpost!  Grandparents, toddlers—everybody's welcome!
When you get to the outpost we'll set the horses to graze in the paddock.  While we're getting the wood cook fire going you can explore, wade in the creek, pitch a game of horse shoes, or just relax with some lemonade.  Maybe you'll find gold or garnets in the creek!
We'll grill a steak and chicken lunch over the fire and you'll sit down to a big feast.  Top it off with fresh fruit or toast some marshmallows over the fire.
After lunch we'll mount up and enjoy some more trails on the way back to the stable.
Typical Menu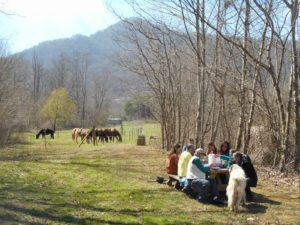 Teriyaki Steak Skewers
Greek Chicken Skewers
Fire Roasted Potatoes and Vegetables
Cole Slaw
Garlic Barbecue Bread
Fresh Fruit of the Season
Marshmallows for Toasting
Our Own Mountain Spring Water
Pink Lemonade
A vegetarian option lunch is available on request.
Half Day Campfire Lunch Ride - $175 per person
Minimum number: 2 riders
Minimum age to ride is 7 years.
Campfire Lunch Hayride  - $65 per person
Children 2 and under are free.
*Please note that this ride is available only to parties with at least 2 riders.
If your entire group are non-riders, we offer several 1-2 hour farm-truck hayride options. Click here for more details.
For reservations, please call (828) 683-5758 a minimum of 24 hours in advance.
We accept all major credit cards.