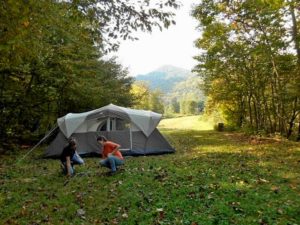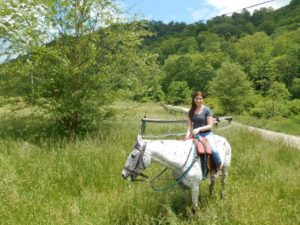 We'll match you up with your horse in the early afternoon and head out on trail. You'll ride through gorgeous
countryside past farms and old log cabins, through meadows and up the mountain for some amazing views.
And non-riders in your party are welcome to join the overnight! While you ride, our staff will transport them and your
gear to our creek-side camping outpost. While we set up camp our non-riders can take a hike or relax by the creek.
When you arrive on horseback we'll pasture the horses and get you set with your spacious tent. While we get dinner
started you can enjoy some snacks, explore the creek, or pitch a game of horse shoes. We'll cook up some cowboy soup,
grill steak and chicken on the fire and roast some fresh farm vegetables. After feasting in the dining tent, kick back by the
fire in an easy chair and enjoy mountain music with a local musician. Toast some marshmallows and Angels on Horseback.
Tell some tall tales. Lay back and gaze at more stars than you've ever seen. Then find your cot, tuck up in your sleeping bag,
and drift to sleep to the sound of the creek.
In the morning we'll brew up some cowboy coffee and cook a hearty breakfast on the fire. Take your leisure while we tack up
the horses or lend a hand with your horse. Mount up for your morning ride and enjoy the mountain views. Around midday
our non-riders will meet you back at the stable. We'll all swap stories and you'll take home memories that will last forever.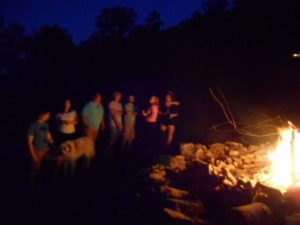 Your overnight adventure includes:
Afternoon trail ride to the campsite
Custom stainless sports bottle filled with fresh mountain water
Post ride snacks and drinks (View menu here)
Campsite activities
Campfire steak and chicken dinner, with vegetarian option
Large lighted tent with cots, sleeping bags, and pillows
Toilet facility and running water
Live music by the fire
Campfire breakfast
Morning trail ride back to the stable
We provide all the equipment and we do all the setup– just bring your personal items.
Our creekside camp is set up with a cook tent and dining tent, big stone fire rings, pioneer games, and easy chairs.
You'll camp in comfort with spacious lighted tents, cots with sleeping bags and pillows, enclosed port-a- potty and running water.
Your horses will be pastured nearby and you're welcome to lend a hand with grooming, feeding, and tacking up.
Riders: $750.00 per person
Non-riders: $525.00 per person
Children under 5: Free. Must be accompanied by an adult non-rider.
ASK ABOUT OUR SPECIAL DISCOUNTS!
The Details: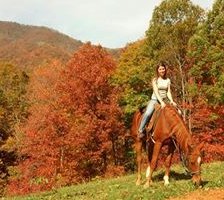 Minimum of 2 riders. Maximum of 6 riders.
Non-riders only accepted when accompanied by 2 riders.
Accommodation for up to 10 non-riders. Children are welcome.
Any skill level of rider is welcome, including first time riders.
Minimum age to ride is 7. Rider weight limit is 240 pounds.
Departures on Saturdays, Tuesdays, and Thursdays.
CANCELLATION POLICY: Reservations may be cancelled a minimum of 2 days prior to ride date for a full refund. Any reservation cancelled with less than 2 days notice will not be issued any refunds. No exceptions. If the overnight is cancelled
due to weather, participants will receive full credit for a future trip.
Available October 1 – December 15 and March 15 – May 31
Call 828-683- 5758 for availability and booking.