You've never had a picnic like a Randall Glen lunch ride. From the great horses to the gorgeous trails to the five-star lunch, this is a ride to remember. We have lunch rides for every rider, beginner to experienced, and from 2 hours to all day. Whichever ride you choose, you're going to have a lifetime experience. Can you imagine riding a pristine forest trail, then tying up your horse and opening your saddlebag for a lunch like this?
---
NEW! Campfire Lunch
(Typical Menu)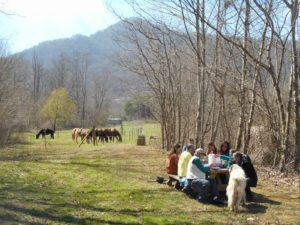 Teriyaki Steak Skewers
Greek Chicken Skewers
Fire Roasted Potatoes and Vegetables
Cole Slaw
Garlic Barbecue Bread
Fresh Fruit of the Season
Marshmallows for Toasting
Our Own Spring Water
Pink Lemonade
We can also provide a vegetarian menu.
---
Randall Glen Lunch
(Typical Menu)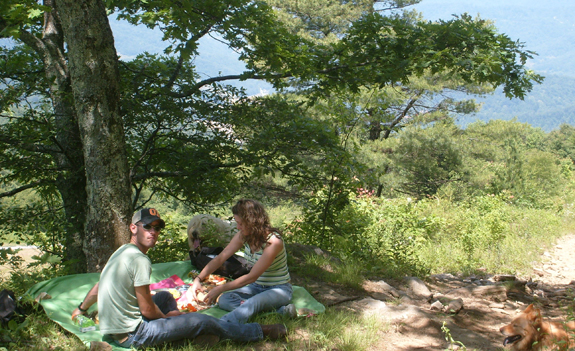 Medallions of Roast Chicken Garnished with Fresh Herbs
Miniature Tomatoes
Crusty Artisan Rolls with Farm Style Butter
Aged White Cheddar
Fresh Fruit
Butter Shortbread
Truffle Fudge
Bottled Spring Water
Soft Drinks of Your Choice
We can also provide a vegetarian menu.
---
Silver Service Gourmet Lunch
(Typical Menu)
And for a ride that's beyond anything you've dreamed of, join us for a Silver Service Gourmet Lunch Ride. Ride your horse to a mountain meadow where you'll be met with a three-course luncheon served with tablecloths, linen napkins, and sterling silver. Start with hors d'oeuvres and a champagne toast in a crystal glass, then dine at leisure in the fresh mountain air.
Alcohol-free Champagne
Marinated Artichoke Hearts and Mushrooms
Toast Rounds
Fresh Pate
Assorted Cheeses
Whole Roast Herbed Chicken
Grilled Asparagus
Tomato Salad with Fresh Herbs and Wild Mint
Tuscan Artisan Bread with Farm Style Butter
Fresh Fruit
Toasted Pecans
Triple Chocolote Tarts with Raspberry Sauce
Chilled Mocha Frappuccino
Bottled Spring Water
Soft Drinks of Your Choice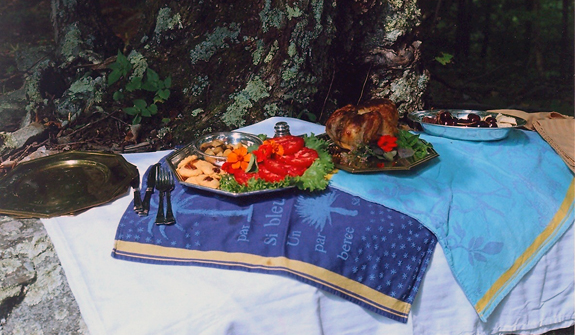 We can also provide a vegetarian menu.
---
Deluxe Overnight Ride
(Typical Menu)
If one day of trail riding isn't enough adventure for you, our overnight trail rides are just the ticket! Two hours of riding followed by snacks, a campfire, music, games, and dinner cooked for you over an open fire. Then settle down to sleep under a sky filled with more stars than you can count. In the morning, we'll cook breakfast while you sip coffee, then we mount our horses and head back home with another two hour ride. Mountain life done right!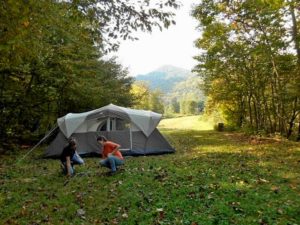 Snacks
Randall Glen Trail Mix
Fresh Fruit
Toast Rounds with Handmade Cheeses
Starburst for kids
Soft Drinks – Juices – Mountain Water
Dinner
Cowboy Soup
Randall Glen Hearty Salad
Fire Grilled London Broil, Teriyaki Chicken, Fresh Grilled Veggies, and Potatoes
Garlic Bread
S'Mores – Angels on Horseback
Soft Drinks – Juices – Mountain Water
Coffee – Tea
Breakfast
Hot Biscuits
Sausage Gravy
Farm Style Butter – Homemade Preserves – Local Honey
Smoky Mountain Apples
Skillet Roundup
Homemade Greek Yogurt
Coffee – Tea – Hot Chocolate – Juice – Farm Fresh Jersey Milk
We can also provide a vegetarian menu.