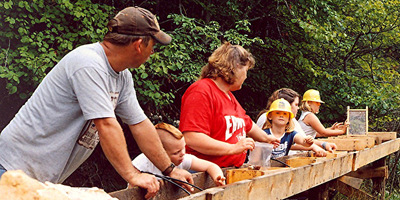 Nestled in the wildflower meadow at Randall Glen is the most beautiful spot to enjoy Gem Mining in North Carolina. We are the closest Asheville Gem Mine to greater Asheville NC. The Randall Glen Gem Mine welcomes visitors for Gem Mining Vacations year round, weather permitting. The outdoor mine allows folks to mine for rubies, sapphires, emeralds, amethysts, citrine, smoky topaz, rose quartz, green and purple fluorite, milky quartz, red and yellow quartz, and lots of garnet. You can come to the mine shaft and dig a bucketful of dirt that is full of gems. Take the ore and dirt to the flume by the creek and pour dirt into the gem screens. Spend the day washing the dirt from your gems as you look out at Randall Glen mountain (elevation 3,600 ft). Some of the gems found here have been as large as your fist! Families and other groups love coming here for Gem Mining Vacations where they make memories that last a lifetime.
We provide all of the equipment, free of charge. We have special buckets that are extra rich in sapphires, rubies and other gems and you can get them "To Go" if you'd like to take some home with your. In addition to the regular gems that you can mine for, we also feature Gold Panning Gem Mining Vacations. Our creek is filled with gold. You can pan for gold like the prospectors did and find lots of placer gold by the flume. Some of the gold we've tested from the creek has tested at 18K or over!
In addition to Gem Mining Vacations and other Family Farm Vacations and adventure trips you can enjoy at Randall Glen – the Gem Mine in NC at Randall Glen also ships Treasures Boxes which are amazing boxes loaded with all you need to enjoy gem mining at home. They're great for parties, science projects, gem mining at home for the kids, and much more! They cost between $55 to $230, depending on size. Contact us to find out more about our Treasure Boxes and the other goodies that you can get shipped to your home.
Come to Randall Glen for all inclusive mountain vacations in the Smoky Mountains of Western North Carolina. Check out the Lodging Asheville NC options and browse our Asheville Luxury Cabins. Our mountain paradise also features a working farm complete with animals, gardens, an orchard, caving in a real cave, hiking and mountain biking trails, trout fishing and blue gill fishing creeks and ponds, waterfalls, high meadows, a mountaintop (3,600 ft), horseback riding trails, and so much more! You'll never have to leave during the length of your stay!