The Great Smoky Mountains are filled with gems, and gem mining is a tradition that's fun for every age. Kids love digging their own gem dirt, parents and grandparents love finding big gems that can be cut for fine jewelry. At the Randall Glen Mine the setting is gorgeous, and the North Carolina Gemstone Mining is easy.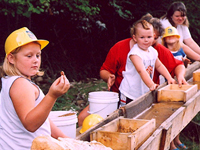 We're the closest mine to Asheville. Our gem dirt is rich in gems, and you're likely to find every kind of stone that's mined in the Great Smoky Mountains. We provide all the equipment you need, free of charge. Our friendly staff will help you mine-we'll even do the digging if you like-and we'll identify your finds for you. You keep every gem you find, large or small!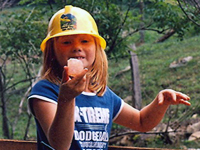 We have Specialty Buckets extra rich in sapphires, rubies, and other gems, and we have "Gem Dirt to Go" if you'd like to take some along for mining at home. And once you get home, if you still have mining fever, just give us a holler and we'll ship some rich gem dirt to you! And if you'd like to mine with your very own equipment, we have personal gem screens and shovels for purchase. We even have miner's helmets for kids!