GEM DIRT
We dig our gem dirt high on our mountain and bring it down by the flume where you can mine it. You can have the fun of digging your own dirt, or we'll be glad to dig it for you. Our gem dirt is rich in native rubies and sapphires, many of cuttable size and many star sapphires and star rubies. It's common to find 100 to 300 carat stones here at Randall Glen, and every season some giants are found-1200 carats and up!! Our gem dirt is full of many other kinds of gems as well.
GEMS YOU WILL FIND:
Rubies
Citrine
Rose Quartz
Sapphires
Fluorite
Blue Kyanite
Emeralds
Smoky Topaz
Calcite
Amethysts
Moonstone
Garnets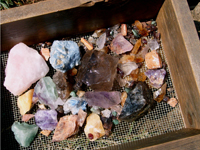 Typical finds from a Super Fun Bucket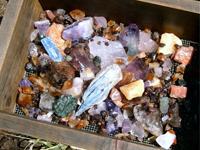 Typical Finds from an Ultimate Bucket
BUCKET OF GEM DIRT – $10.00
A 2 gallon bucket of gem dirt rich in all the types of gems. Dig it yourself, and fill it as full as you can! We guarantee you WILL find gems.
GEM DIRT TO GO – $3.50 or 3/$10.00
Gem dirt already bagged up for you-mine it here or take it home!
SPECIALTY BUCKETS
If you want to get right to the treasure and find lots of gems, the Specialty Buckets are for you! We've sifted out a lot of the dirt ahead of time, so you get less dirt and more gems–and you find those gems faster! You'll love these buckets.
SUPER FUN BUCKET
$25.00
This 3 – gallon bucket is full of colorful gems-sapphires, rubies, emeralds, amethysts, rose quartz, calcite, citrine, garnets, smoky topaz, kyanite, fluorite, moonstone, and more.
SUPER SAPPHIRE RUBY BUCKET
$45.00
Lots of Sapphires and Rubies!
A big 3 – gallon bucket loaded with sapphires and rubies plus lots of all the other gems. You'll find native sapphires and rubies of cuttable size, up to 100 carats or more!
ULTIMATE BUCKET
$85.00
A Whole Day's Mining in One Bucket!
A giant 5 gallon bucket packed with all the kinds of gems and lots of big rubies, sapphires, and emeralds. You'll go home loaded with gems.
ELITE BUCKET
$150.00
Our Finest Bucket!
You'll have to mine this bucket to believe it-it's almost solid gems! Over 10,000 carats of the highest value gems-amethyst, citrine, garnets, rubies, sapphires, and emeralds. You will find many stones of cuttable size, and you'll have a fantastic time finding them!
THE KING SOLOMON CHEST
$1,000
(Wooden chest not included)
The Mining Adventure of a Lifetime!The King Solomon Chest is filled with over 60 gallons of super rich gem dirt, with more than a QUARTER MILLION carats of rough natural gems. When you mine this chest you'll find thousands of stones. You might find Indian artifacts and some gold, too!And talk about treasure–you'll find hundreds of stones of cuttable and specimen size. We guarantee you'll find specimen stones of over 1000 carats. In fact, the King Solomon Chest is so rich, we'll provide you 5-gallon buckets to carry away your finds.Mine this treasure trove yourself, or bring your family-bring a crowd! There's so much in this chest, you can mine it today and come back tomorrow to mine some more. Or for the best adventure of all, come and stay at one of our luxury cabins and mine every day from your own private hoard!
---
GOLD PANNING
Get down in the creek and "pan like the prospectors"! Take home all the gold you find. We can't guarantee you'll retire on it, but we bet you'll find gold and we know you'll have fun.
GOLD PANNING
$12.50 per person
Pan all day in our creek! Fee includes use of a gold pan, "how to" instructions, a free vial for your finds, and panning privileges for all of that day. Kids 12 and under can share with a grownup.
PROSPECTOR KIT
$25.00
Everything you need for serious panning! This kit includes-to keep–your own strainer and tweezers for gathering gold, a magnet and tile for testing "if it's the real thing", and two collection vials, plus instruction sheet, use of a gold pan, and all day panning privileges for one person.
GOLD MINING AT HOME!
Do you feel lucky? Mine for gold right at home! Our "Pay Dirt" is gold-bearing sand and gravel dug right from our creek here at Randall Glen. We don't "guarantee" a certain amount of gold in each bag of Pay Dirt, because unlike some companies we don't salt our dirt with a "pinch of gold", but you certainly will find gold. Our Pay Dirt contains natural placer gold straight from our creek. Bags of Pay Dirt that we have mined have yielded more than a gram of gold each. Most gold that we've tested from our creek tests out at 18K or over.
PAY DIRT
$45 * Free shipping and insurance!
Over 1 pound of gold bearing sand and gravel hand dug from our Randall Glen creek. Includes instructions for mining at home and how to tell "if it's the real thing". You'll definitely find gold!
MEGA PAY DIRT
$85 * Free shipping and insurance!
Over 2 – pounds of gold bearing sand and gravel hand dug from our Randall Glen creek. This great Pay Dirt will provide many days of mining, and we think you'll be very happy with the gold you find. Includes instructions for mining at home and how to tell "if it's the real thing".
TO ORDER: Email your order or phone us at 828-683-5758. We'll take your credit card information by telephone and ship your gold mining order to you.
HOME GOLD MINING KIT
$85 * Free shipping and insurance!
Everything you need to mine for gold at home! This kit includes over 1 pound of "Pay Dirt" gold bearing sand and gravel from our creek, a gold pan and a strainer, tweezers and vial to collect your gold, a tile and magnet to test "if it's the real thing", and full instructions. This is great for practicing your panning technique, and it makes a fantastic gift too.