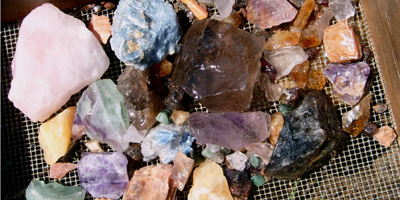 Randall Glen offers Gem Stone Mining in NC in a setting unlike any other you will find in the Smoky Mtns of Western North Carolina. We are the closest spot to Asheville to go Gem Mining in North Carolina and we offer one of a kind Gem Mining Vacations and Farm Vacations. Gem Stone Mining in NC has always been highly popular among visitors that come to the area, and as things become more and more commercialized there seems to be an influx in locations where you can try your hand at Gem Stone Mining in NC; however, Randall Glen is not your run-of-the-mill, commercialized attraction where you can go gem mining. Randall Glen is a secluded paradise where you and your family can come to unwind and get away from it all, and a place where your kids and loved ones will never run out of things to do and see. And the best part is, it's all right here. There is no need for planning!
We welcome you to come and visit Randall Glen and stay in our Cabin Rentals in Asheville NC which are convenient to Asheville, yet worlds away as they are nestled in the preserved community of Big Sandy Mush. These Western NC Rental Cabins are beautiful and come equipped with all of the amenities that you and your family will want to find. When you stay in our Asheville Luxury Cabins you can enjoy all of the fun at Randall Glen and there is no need for additional plans or cash – it's all right here including the Randall Glen Gem Mine where you can go Gem Stone Mining in NC with your group while you stay with us.
Gem Stone Mining in NC is free for guests at Randall Glen, and we happily provide you with all the equipment you'll need. We invite you to learn more about the Gem Stone Mining in NC at Randall Glen and start planning your Farm Vacations to the Great Smokies today! In addition to Gem Stone Mining in NC, Randall Glen is an outdoor lover's paradise. We delight in allowing our guests to visit and meet with the farm animals at Randall Cove Farm and families looking for the ultimate Farm Vacations should plan to stay with us! We also have stables and also take guests and others on tours Family Horseback Riding Vacations. While this might sound like "enough", there is plenty more!
In addition to Gem Stone Mining in NC, horseback riding vacations, and our luxury cabins, Randall Glen also features activities such as trout fishing, mountain biking, hiking, caving (yes, even caving – we have a cave!), tons of fun games and good old fashioned fun! Break out the games and group fun that you remember from when you were a child – Randall Glen is a place where you will feel right at home.