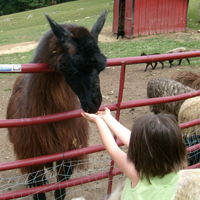 Looking for the ideal spot to visit for unique Family Farm Vacations? Make memories that you will never forget with your family and special loved ones at Randall Glen. Our amazing mountain valley location is secluded just minutes from Asheville NC and offers everything you are looking for. Many people visit and discover that you do not have to leave the Randall Glen premises; everything you are looking to do and enjoy while on your Family Farm Vacations is right here at Randall Glen. The farm is the heart of Randall Glen. This beautiful region has been farmed for more than 200 years and that farming tradition is one that we continue to foster. We allow our guests to spend time at the farm visiting with the animals, and we invite you to help lend a hand if you'd like and we'll share our harvests with you.
At Randall Cove Farm you and your family can get to know a variety of farm animals. Our farm includes:
highland Shetland sheep
Sebastopol Geese
Chickens such as Banties, Comets, Cochins, and Buff Orpingtons
Nubian Goats
Llamas
Horses
And our working dogs
In addition to the friendly farm animals, we also have a two-acre garden where we grow over 60 varieties of fruits and heirloom vegetables that are hundreds of years old. Here you can taste Mr.Stripey tomatoes, Old English sweet peas, generations-old green beans, squash, cucumbers, okra, peppers, cabbage, lettuce, broccoli, greens, beets, onions, watermelon, cantaloupe, asparagus and sweet corn and potatoes. You can enjoy a delicious, farm fresh meal straight from the garden and vine. We grow wild strawberries, black raspberries, blackberries, blueberries, and raspberries. In our orchard you can find heirloom apples, peaches, cherries, plums, apricots, pears, grapes, and figs, as well as chestnuts and black walnuts.
Get back to nature and enjoy Family Farm Vacations at Randall Cove Farm. Escape to the Smoky Mountains! Our lovely mountain community is located in Big Sandy Mush, just minutes from Asheville. Randall Glen is a short drive time from cities such as Atlanta, Charleston, Columbia, Charlotte, Raleigh, Winston-Salem, and Greensboro. Enjoy the peace and quiet and plan Family Farm Vacations to Randall Glen right now! In addition to Randall Cove Farm, which is perfect for families with young children to explore, Randall Glen is also home to endless horse back riding trails, hiking and mountain biking paths, gardens, orchards, wildflower meadows, a cave for caving, trout and blue gill fishing spots, a gem mine and a general store! It's all right here. You can spend your entire vacation here and enjoy more than Family Farm Vacations. Learn more about the Asheville Luxury Cabins located on site, and other types of family fun including Gem Mining Vacations and Family Horseback Riding Vacations.