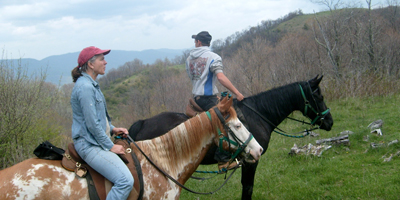 Situated just a few short miles outside of Asheville North Carolina in the Great Smoky Mountains paradise awaits you! Bring your family, loved ones or special group to enjoy Family Farm Vacations at Randall Glen. Stretching across hundreds of acres amidst thousands that are preserved by conservancy groups, Randall Glen is a place to forget about all your worries and simply get away from it all. Just a short drive from Atlanta, Charleston, Columbia, Raleigh, Charlotte, and other large cities, Randall Glen is a place where you can escape. Randall Cove Farm sits at a 3,100-ft elevation and the mountaintop at Randall Glen rises to 3,600 feet. We are the best spot to come for Horseback Riding Vacations in North Carolina. Read more about great family trips.
We love horses at Randall Glen! Big Sandy Mush, the historic community where Randall Glen is located, is a picture-perfect mountain location to come for not only the Best Horse Back Riding Vacations but also Family Farm Vacations and Gem Mining Vacations. The stables at Randall Glen are equipped to help us carry out custom trail rides and tours. Our horses are friendly, well trained, and well cared for. We specialize in smaller tours, and prefer to take out groups of one to six – and never more than eight – on our Horseback Riding Vacations in North Carolina. We use Australian saddles, which are similar to Western saddles, but they have a deeper seat and are comfortable for all levels of riders. The Aussie saddle can be worn either in the Western style or English style as well, and we will make sure that you are comfortable and outfitted with the proper saddle during the length of your trip. All of the Horseback Riding Vacations in North Carolina at Randall Glen near Asheville NC are led by experienced professional guides.
Randall Glen is known for the Best Horse Back Riding Vacations and can tailor a trip just for you! We offer everything from one-hour Western North Carolina Horse Back Riding Trail Rides, waterfall rides, farmland rides, and mountain top rides to all-day rides and even luxury Horseback Riding Vacations in North Carolina where you will enjoy a linens and silver gourmet lunch in a lovely mountain meadow surrounded by panoramas. Reservations are required 24 hours in advance, and you need not have any previous riding experience. If you are scheduling a trip to Randall Glen for Horseback Riding Vacations in North Carolina, make sure to bring along close-toed shoes for the trail ride; long pants are recommended. All ridesr 15 and under are required to wear safety helmets.
In addition to the acres and acres of land and trails to ride at Randall Glen, folks come here to enjoy more than just the Best Horse Back Riding Vacations in the south! Our mountain paradise is also home to Randall Cove Farm complete with animals, gardens & an orchard, a Gem Mine Asheville NC, fishing areas, hiking and mountain biking trails, and a cave where the adventurous ones enjoy caving expeditions. Come and escape to Randall Glen and discover all of the fun! Check out our Asheville Luxury Cabins – we feature Cabin Lodging Asheville NC for everyone, and we have a Handicapped Accessible cabin, Low Allergin Asheville NC Cabins, and Kid Friendly Cabins. We are minutes from Asheville, yet a world away.