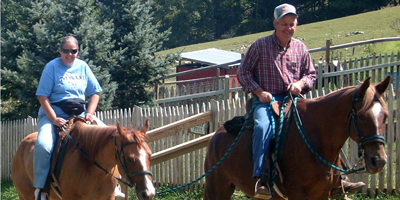 The stables at Randall Glen offer Western NC Trail Rides and fun Horseback Riding Vacations at their location just a few minutes outside of Asheville North Carolina in the Great Smokies! At Randall Glen you can enjoy trails that take you through unspoiled wilderness, along forgotten pathways that lead to high meadows and breathtaking mountain views and ride beside clear mountain creeks, and through amazing fields of wildflowers. Our stables are the premier location in Western North Carolina to come for family and small group Horseback Riding Vacations. But what is amazing is that Randall Glen is more than just a preserved mountain paradise. You can escape to our a Asheville Luxury Cabins and enjoy not only Horseback Riding Vacations but also Gem Mining in NC, caving, hiking, mountain biking, fishing, wagon trails, and all sorts of other fun activities without ever having to leave Randall Glen!
Whether you are looking for a short, one-hour trail ride, or half- or all-day fun ride complete with a meal, we have all the Horseback Riding Vacations you are looking for at Randall Glen. On our lunch rides, we go all out and serve delicious roasted chicken with fresh herbs, miniature tomatoes, crusty artisan rolls with farm-style butter, aged white cheddar, fresh fruit, butter shortbread, truffle fudge, bottled spring water and even soft drinks of your choice. Vegetarians are also welcome; we happily accommodate your taste. Our amazing five-star Silver Gourmet lunch features a picnic complete with linens, silver, and crystal. We also have trail rides that feature waterfalls and much more! Ask about our Horseback Riding Vacations at Randall Glen Stables. For groups and families that are interested we also have hayrides and country wagon trail rides as well. Call for reservations.
Randall Glen is an all inclusive mountain vacation spot situated just a few minutes outside of Asheville. Come to Randall Glen and escape from the hustle and bustle of everyday life. Our mountain location features more than just Horseback Riding Vacations. We also feature a gem mine for Gem Mining in NC, caving in a large cave, hiking and mountain biking trails, fishing, waterfalls, picnic grounds, high meadows, wildflower walks, orchards, a garden, a working farm that you can explore, a general store, and cozy Asheville Luxury Cabins. Contact us to learn more about fantastic all inclusive Horseback Riding Vacations in a location where you will never have to leave for anything – it's all right here!