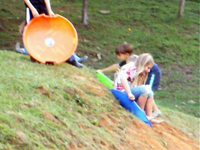 Games Lawn

On the three acre Games Lawn there's plenty of room for kite flying, Capture the Flag, or a game of ball. There's Tetherball, Cornhole, Ladderball, and old-fashioned tire swings. Try your skills on our Balance Course, with Stepping Stones, a maple log Balance Beam, Log Steps, and stone Balance "Boards". There are slopes for grass sledding in the summer and snow sledding in winter. Our bonfire ring is here at the Games Lawn, and the evenings are great for S'mores, stargazing, and chasing fireflies.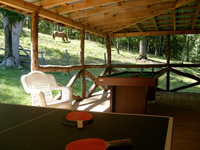 Games Barn
Overlooking the bonfire ring is the Games Barn, a genuine antique chestnut log barn. Enjoy Billiards, Ping Pong, and Foosball. Zoom around a little in our Scooterboard Rink! On a rainy day, relax on the big wraparound porch for a crafts project, whittling, or just to listen to the music of rain on a tin roof.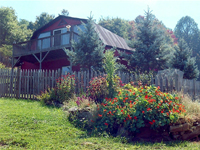 The Barnhouse Guest Center
Our farmhouse is also our guest center. We call it the Barnhouse, because it's a real barn that's been outfitted simply as a house. We welcome you here when you arrive, and during your stay we'll help you out with local activities and bookings. Here you'll find the general store and the video, book, and game library. You might also find us bottle feeding baby goats or canning vegetables from the garden. From our wraparound porch we look out on the sheep meadow and the creek, the llamas and horses, and the mountains of Sandy Mush.
Internet Cafe and General Store
Our internet cafe is here at the Barnhouse, with a full espresso bar and wifi indoors and out. Come down and visit with us. Pick up some fresh-laid eggs and garden vegetables (when seasonally available) at the general store. Put up your feet on our hospitality porch and take in the mountain views while you enjoy a latte and catch up on your email. Besides homegrown goodies, the general store stocks basic staples, simple meal makings, and snacks and soft drinks, too