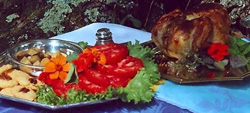 We'll cook for you!
Don't feel like cooking on vacation? We smoke some of the best barbecue on the planet, plus we make good farmhouse foods with fresh ingredients from our farm. From a snack to a farmhouse lunch to a whole meal made to order–how about baby back ribs, pulled pork, smoked chicken or steak? A meatloaf sandwich on home made bread? Or a chicken and dumplings dinner with peach cobbler for dessert? We'll feed you in grand Smoky Mountain style.
Library of Videos, Games, Puzzles, and Books
Browse our Barnhouse lending library for movies and kid's shows, family games, jigsaw puzzles, and that perfect vacation novel. We also have a reference library on mountain ways, birds, butterflies, wildflowers, and all those things you wonder about.
Cashless Vacation
Avoid searching for quarters or wishing you had the credit card with you. We'll be glad to set up an account to allow authorized members of your party to sign for virtually every purchase or activity.
Concierge Service
We're happy to help you book for outings like whitewater rafting, hot air ballooning, skiing, the Great Smoky Mountains Railway, and the Biltmore Estate. We can arrange for luxurious massage and spa services at your cabin. We'll also help with directions, area information, and "What is it?"