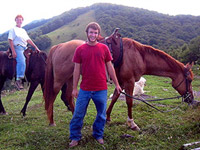 Horseback Riding
At Randall Glen Stables we take pride in our willing horses and beautiful trails. Ride with our experienced guides through quiet forest glades and meadows with magnificent mountain panoramas.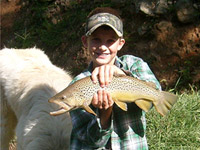 Trout Fishing and Bluegill Fishing
Our pond has plenty of big Rainbow and Brown trout. The pond is small, but the fish are wiley, so the fishing can be a nice challenge. You can catch and release or take your fish back to your cabin for a trout dinner. We also have a pond filled with Bluegill, Bream, Crappie, and Largemouth Bass. These panfish are fun for kids, exciting to catch, and delicious eating too!
*Our trout pond is currently undergoing construction and is unavailable for fishing. We apologize for any fish fry dreams we may have inconvenienced.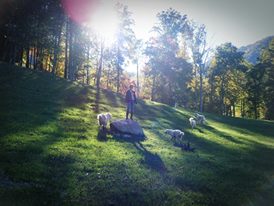 Hiking and Mountain Biking Trails
We have miles of beautiful trails, ranging from a peaceful stroll to highly challenging. There are great picnic spots, too, alongside creeks, on our mountaintop, and in fields filled with flowers. Adjoining us is conservancy land with thousands of acres and gorgeous trails.
Tours and Adventures
We offer several fun and exciting organized outings, from Behind-the-Scenes Farm Tours to a Mountain Hike and Cave Adventure.