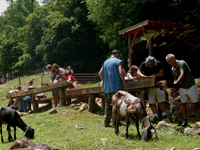 Gem Mining
At our gem mine you can dig your own bucket of gem dirt and sieve it by the creek to find emeralds, rubies, sapphires, amethysts, and more. You can pan for gold right in the creek, too. At the gift shop we have supplies to turn your find into a pendant or other jewelry, and we have gift "Treasure Boxes" of gem dirt to mail or take home.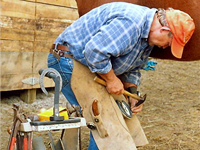 Living History
Here in the Great Smoky Mountains, many Southern Highlanders still farm in the ways of their ancestors. Experience living history here at Randall Glen, when we plow with horses, shear the sheep, perhaps cook up a batch of biscuits on a wood stove. You might even get to hand the farrier his nails when he shoes the horses.
Interactive Farm
Our home farm provides fruits, vegetables, and eggs, and we raise all sorts of animals too. You're welcome to lend a hand here at Randall Cove Farm, to help gather eggs, pick blueberries, or maybe to bottle feed baby goats and lambs.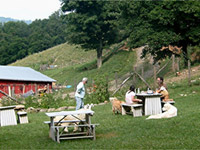 Picnic Grounds
We have beautiful landscaped picnic grounds conveniently located near the stables, Guest Center, and gem mine. Between activities, enjoy your picnic and a have a game of tetherball or old fashioned Horseshoes.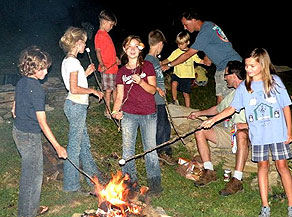 Evening Entertainment
We regularly put on cookouts, sing around the bonfire, and bring out the telescope for stargazing. There might be genuine mountain music, a storyteller, or maybe even a snipe hunt.