Happy Pups With Happy Families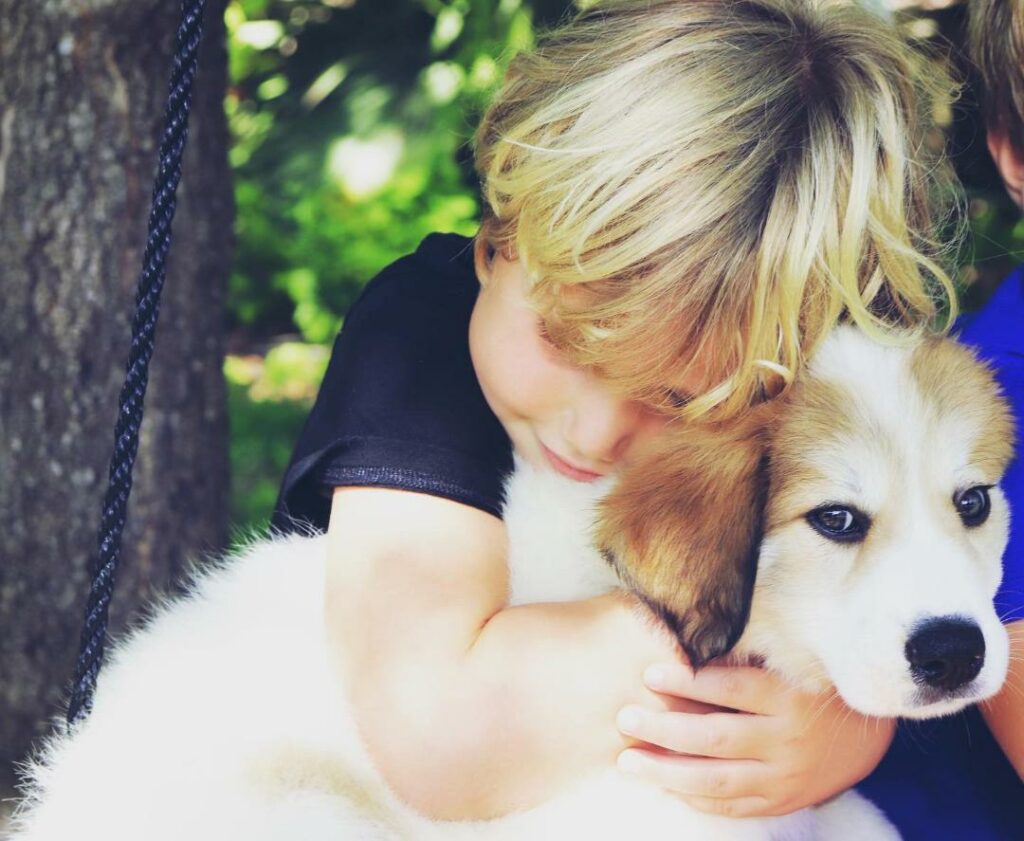 Thank you so, so much again for such a lovely visit to the farm and wonderful experience meeting you and picking up our new pup. The both of us are absolutely smitten!!!
–V. T., San Francisco, California, May 2022
---
We are just so much in love with Luca…he is sooooo very smart and gentle…we are so very lucky to have found you and Luca…Your boy is exceptional…and he is well loved by all
–C. E., Islandia, New York, January 2022
---
My granddaughter and Diesel were playing chase in the drive, and she busted her butt. He ran to her and laid down beside her until she got up. Kept his paw on her. Yes, this had me crying to know Diesel is so sweet and loving. This big teddy bear is so loved but gives love unconditionally. What a Blessing to our family.
–D.B., New London, North Carolina, June 2021
---
We bought a puppy from Mary, and he is wonderful. So sweet, loving and great at watching our flock. She has an amazing farmstead with clean, healthy animals, that are loved, well cared for, and maintained with routine vet visits. I highly recommend investing in her puppies if you are looking for a Great Pyrenees. Mary even put together a booklet of information on the breed, along with all of the vet records, breeding lines and certificates, & microchip registration info. She went above and beyond answering all my questions prior to purchasing our puppy and allowed us to visit. She even sent us regular pictures of him growing up until he was ready to come home with us.
Bailey is fabulous and so big. He has saved our flocks numerous times from hawks and a fox. He is very protective of the kids, to the point that he barks if he hears our daughter screaming with laughter from being tickled.
–L.H., Mint Hill, North Carolina, September 2020 & March 2021
---
These doggies are amazing!! We picked up our Gertie Girl in August from Mary Adore Coloney and we have been amazed every single day at how wonderfully she has taken charge at our farm and started her job with ease. We have had zero predators around our herd and flock and she works our yard like a champ! She is sweet to our daughters and keeps them safe and is a wonderful work companion. I have raised several dogs in my lifetime but none have been as easy as Gertie and none have impressed me as she has with naturally knowing her job. We will be back in the spring for another!
–B.K.B., Bear Creek, North Carolina, October 2020
---
We are so in love, the pups are doing wonderful. They are sleeping well and bring such joy to our lives. Thank you times a million.
–K.C., Vero Beach, Florida, August 2019
---
Super Pup! Just an update on Josh. My beautiful puppy had his first vet checkup yesterday. Passed with flying colors! He weighs almost 25lbs.! I can hardly pick him up. He is so smart and also very sweet.
–E.K., Camden, South Carolina, August 2019
---
All is great with the puppy. My kids have named her Holly. She has taken right up with us and even started guarding the house against some roaming deer in the yard. Holly is now 50 pounds and loves to ride in the truck with me everywhere I go. She is a very intelligent dog. Our family loves her very much.
–A.S., Zirconia, North Carolina, January 2017
---
I just wanted to let you know I am in love with my dog! She is doing everything exactly as she is supposed to and hardly takes her eyes off my chickens, she lays and watches them all day. I have had many dogs in my life and she is officially my favorite. Been calling her Gracie. Thank you soooo much for my precious dog!
––B.P., Bakersville, North Carolina, October 2016
---
Just thought I would attach our Christmas picture since our puppies we adopted from you this summer, Luke and Leia, are in it with us. They are a beloved part of our family now. 🙂 Our old dog, Shamoo, and Leia are the runners and Luke is the one who stays behind to protect the farm. It was amazing to see them take on their roles at such a young age. Now they are like old hands at it. I actually heard my first coyotes the other night when I was out closing up the chicken coop. Didn't take long for Leia to have them chased out of the area!
–A.P., Saluda, North Carolina, December 2015
---
What a great disposition these dogs have. We love them. We walk the perimeter of the property several times a day. Our back porch is their home base which they learned immediately. At first the chickens were afraid of the dogs – but are now calm.
–A.R., Wadmalaw Island, South Carolina, July 2015
---
The dogs are great! We just adore them. Rufus has become our yard dog. He follows us as we go from chore to chore in between chasing things around the farm and sleeping on the front porch. He just waits for me while I mess with the chickens and then we move on to the next thing. My son in particular has really taken to him. He's been kind of afraid of dogs but he just loves Rufus. All of my farm friends are eaten up with jealousy! Thank you for raising such wonderful dogs. They mind very well and are so sweet and gentle.
–S.H., Greenwood, South Carolina, December 2011
Happy Dogs, Happy Farms,
Happy Families