Choosing Your Pup
We raise several litters of pups each year. If you would like to adopt a puppy we'll be happy for you to visit, or we can send photos of available puppies with thumbnails of their personalities.
We also accept adoption requests prior to birth. With a non-refundable deposit we will place you on our reservation list. Those who reserve will be given their choice of puppy in the date order of their deposit. If there is not a puppy in the litter that makes a match, your reservation will roll over to the next litter. Your reservation is good for a period of two years from the date of your deposit, and your price is locked in even if fees increase. Payment of the balance of the adoption fee is due in full at the time you receive your pup.
Any pups not already reserved are available on a first-come basis.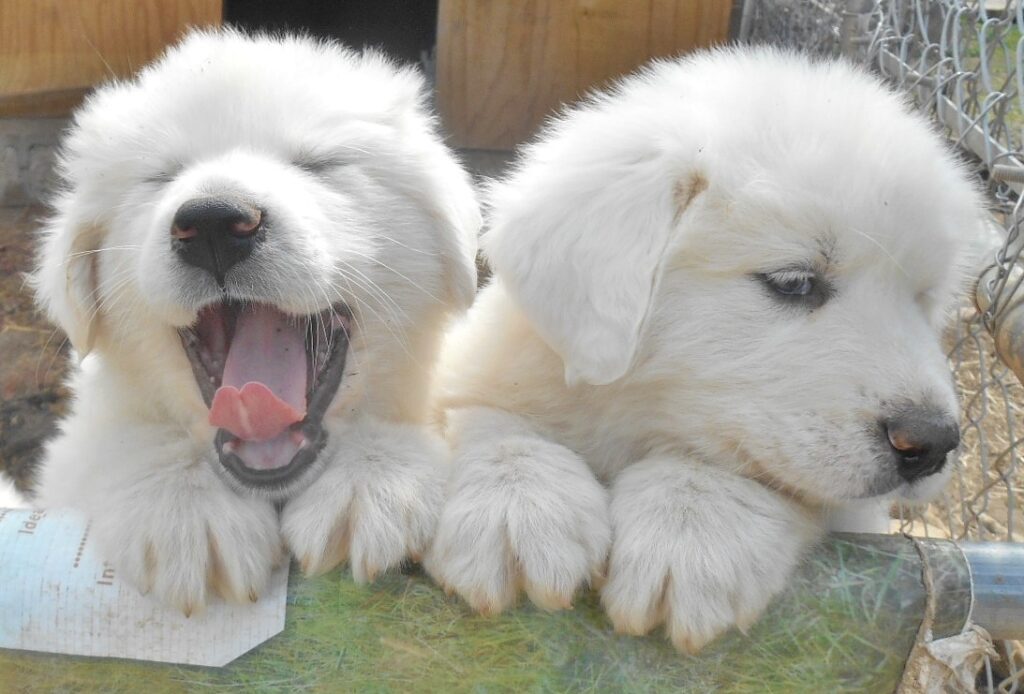 Our Pyrenees are purebred and registered
with the American Kennel Club and the Continental Kennel Club.
We provide DNA certification of the parents'
100% Great Pyrenees bloodlines, as well as genetic health certificates.
---
At the time of adoption, your Great Pyrenees puppy:·
Will come with AKC and/or CKC registration papers
Will be microchipped
Will have had the full three series of puppy vaccinations
Will be vaccinated for Bordetella (Kennel Cough)
Will have had a veterinary exam
Will come with both a short-term and 1-year health warranty
Will have been on a parasite control program
Will come with a Puppy Pack, including:

Our booklet, "Raising Your Great Pyrenees"
Baby photos and your puppy's milestones
A detailed Puppy Health Record
Documentation of vet exam, vaccinations, registration, and microchip
Copies of parents' registrations, DNA and genetic health certificates
A Bill of Sale
A collar, with a Randall Glen ID tag
A stainless dish and food sample with advice for feeding

Will be fully weaned
Will be socialized
Will have received early basic training
Will have had some "big dog apprenticeship" with livestock
Most importantly, your puppy will be sound and healthy. We monitor the health of our pups from the moment they are born. We have a vet tech on staff and an excellent veterinarian on call. We will not adopt out pups who are defective or in poor health.
The selection process
Once the puppies' eyes are open and they have been assessed for health and vigor—usually between 2 and 3 weeks–we will open the litter for selection. We'll send photos of the available pups to the first person on the list, and you're welcome to visit the pups in person as well. As the choices are made, in the order of deposit dates, we'll send photos of the remaining pups to each person next on the list. In fairness to the next persons, we request that you make your choice within a week. If you have not chosen a pup by then we will offer selection to the next person on the list, and you can make your choice at any time from the remaining pups.
Our adoption fee
for a CKC male pup is $800, $950 for a female.
Our adoption fee
for an AKC male pup is $950, $1150 for a female. This includes AKC breeding rights.
The fee is payable by cash, credit card, cashier's check, PayPal, or Venmo. Advance reservation for a puppy can be made with a nonrefundable deposit of 25%. Payment of the balance is due in full before the pup is released.
We prefer not to subject our puppies to the stress of shipping. The ideal is for you to come to Randall Glen for your pup so that you can get acquainted before taking him or her home. However, if this is impossible, we can recommend a caring and reliable pet transport company.
Get Ready to Fall In Love
With Your Pup.

Black Pyrenees
At Randall Glen we breed for color, and every now and then we get a black pup, that rarest of Great Pyrenees colors. Some people mistakenly believe that a black Pyrenees must be a mix, but it is a true color of the breed. Badger marking—black or gray mask or spots—occurs in about one-third of all Pyrenees. Sometimes these color genes consolidate to produce a pup that is all black, or black with white points. This is considered by some to be a throwback to the original French breeding. Our parent dogs are registered and have DNA-tested 100% Great Pyrenees bloodlines, and about once a year a litter is born that includes one or more black pups.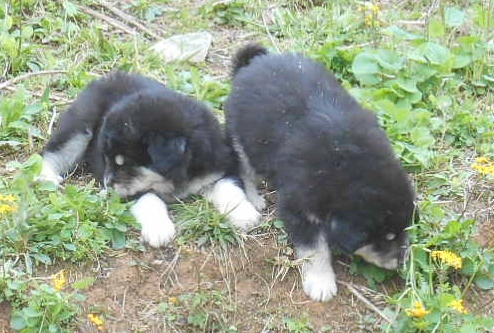 Black Pyrenees are prized, and because of the demand for these rare dogs we have created a separate reservation list for them. As with the other reservations, your 25% deposit will insure your position in date order for receiving a pup. But since these puppies are far more rare, your reservation is good for three years instead of two. If your black pup is not born in the first year, your reservation will roll over through the third year. Your puppy price is locked in, even if prices increase.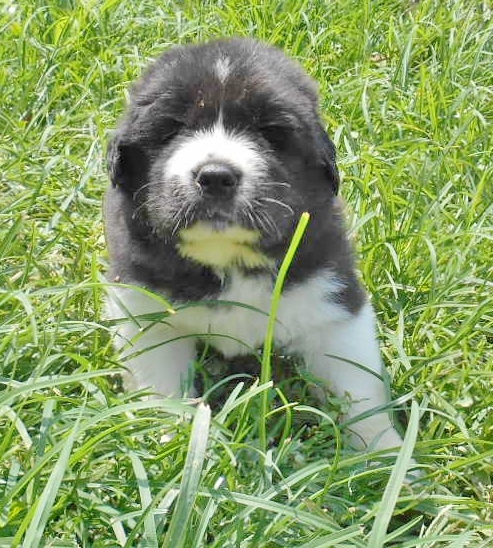 Our adoption fee
for a black male pup is $1450, $1750 for a black female.
As with our other pups, at the time of adoption your black Pyrenees puppy:
Will come with CKC registration papers
Will be microchipped
Will have had the full three series of puppy vaccinations
Will be vaccinated for Bordetella (Kennel Cough)
Will have had a veterinary exam
Will come with both a short-term and 1-year health warranty
Will have been on a parasite control program
Will come with a Puppy Pack, including:

Our booklet, "Raising Your Great Pyrenees"
Baby photos, with your puppy's milestones
A detailed Puppy Health Record
Documentation of vet exam, vaccinations, registration, and microchip
Copies of parents' registrations, DNA and genetic health certificates
A Bill of Sale
A collar, with a Randall Glen ID tag
A stainless dish and food sample with advice for feeding

Will be fully weaned
Will be socialized
Will have received early basic training
Will have had some "big dog apprenticeship" with livestock