DISCOVER THE RARE WILDFLOWERS OF THE SMOKIES
The Great Smoky Mountains are exceptionally rich in wildflowers, and Randall Glen is set in a wilderness area where you can see and photograph hundreds of varieties. Every season displays a wealth of flowers, and your guide will help you find and identify them. The 2 to 3 hour hikes take you to the best areas to find wildflowers of that season, including sunny meadows and gorgeous woodland, past rushing creeks, ferny glades, and stands of rhododendron. Participants should be fit but this is not a difficult hike. The pace will be leisurely with plenty of stops to enjoy the wildflowers.
Spring Wildflower Hikes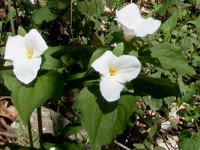 Spring is the season that the Smoky Mountains are most renowned for wildflowers. In April and May the woods are filled with familiar and rare varieties. Take a Springtime hike in our wilderness to discover an amazing variety of flowers. Your guide will help you find and identify Trillium, Lady's Slipper Orchids, Jack-in-the-Pulpit, Showy Orchis, Dwarf Crested Iris, Bloodroot, Dutchmen's Breeches, Solomon's Seal, and many more.
Summer Wildflower Hikes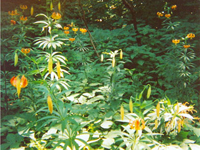 June, July, and August bring a splashy display of wildflowers, starting with Native Azalea and acres of Rhododendron and Mountain Laurel, then Bouncing Bet, Fairy Wand, Wild Hydrangea, Thimbleberry, Cardinal Flower, Bee Balm, Turk's-Cap Lilies, and scores of others. This is a beautiful time of year not only to seek out rare wildflowers but also to pick an armful of familiar favorites like Oxeye Daisy, Black-eyed Susan, Queen Anne's Lace.
Fall Wildflower Hikes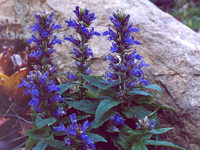 September and October offer crisp days for hiking and dramatic displays of Fall flowers, with huge stands of blue Asters, Joe Pye, Great Lobelia and Iron Weed. Many of the summer flowers are still in bloom, and even in September the trees begin to show Fall color. This is a wonderful time for hiking and for flowers.
Guided Wildflower Hikes are available by reservation. The guided outing is $45.00 per person. To make a reservation, email us at info@RandallGlen.com or call 828-683-5758.